A basic top, bottom, or a plain dress are essentials to anyone's wardrobe. But sometimes, putting them on all the time makes you look drab and, erm, boring. Especially, if these have become your go-to OOTD. Don't worry, there's a way to spice up basic outfits! Here are some tips to make your simple clothes look good without breaking the bank. 
Make a hair statement.
Everyone knows that hair is a girl's crown. Any day with great hair is for sure a good day. Going out on an errand and wearing only your reliable shirt and yoga pants? Look put-together by styling your hair in a bun or in braids. If you're too lazy to do full braids, do a top knot and accessorize with a hair turban. You can also create simple beach waves to your hair. If you're having a good hair day, people's focus will go to your face and hair and won't linger on your plain clothes. You need some hairstyle ideas? Check out some of our tips in our post about hairstyle ideas for 2019.
Choose the right accessories.
This is one of the easiest ways to dress up an outfit. Adding interesting pieces like necklaces, hairpins, and earrings can instantly spice up your outfit. Of course, don't be limited to your jewelry alone. Think out of the box for when you want to dress up your outfit. You can put on an eye-catching belt or use a scarf as a belt. You can also layer your plain colored shirts with another item of clothing, like a khaki polo shirt. Using your novelty pieces is also great when you're wearing a simple attire. Want to show off your pineapple bag? Pair it with a white top and pants. Invest in statement pieces so you can enjoy wearing them with your plain top and pants or a simple beach dress. 
Add some pop of color.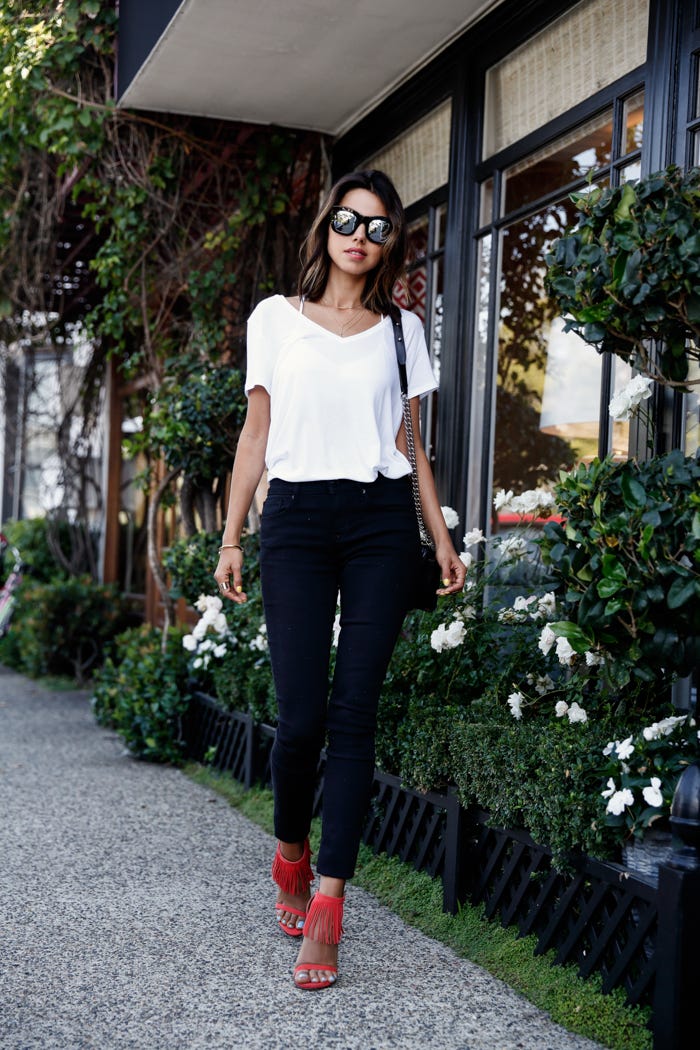 via Harper's Bazaar
Most basic outfits are in neutral colors because it's easier to put them together without worrying about your skin tone. So, adding a splash of color in your outfit will definitely liven it up. Choose a brightly colored jacket or a printed travel kimono. Be creative! Think of your basic outfit as a blank canvas waiting to become a masterpiece.
Add textures to your top.
If you don't want to accessorize too much, you can always make your plain clothes interesting by adding textures. If you're wearing a plain shirt and pants, add texture by rolling up your sleeves. Simple details like tucking in your shirt makes a big difference when you're wearing basic clothes. Another great trick is by tying a knot on your shirt. You'll look more fit and you'll add a great detail in your outfit. Watch the video for some great tips on how to tuck and tie your shirts.
Of course, the best way to make your basic outfits look good is to wear it with confidence. Walk with purpose; strut your stuff like you're on a runaway. Once you've started experimenting on making your simple wardrobe capsule look great, you'll never feel that basic outfits are drab!